My little sweetheart, my little princess
Well, it has been one busy day...Ann is involved in the school Chinese New Year celebrations and I have been busy getting her ready...
The most productive and efficient helper...tying Ann's hair while she has her breakfast...save time
There, all ready...my little princess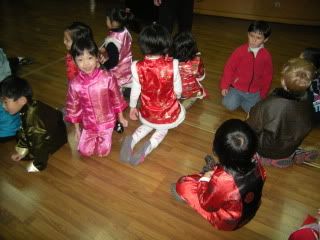 Getting ready...skipping her way out. That's little Ann, vibrant, energetic...a very free spirit
Can you spot her...there she is!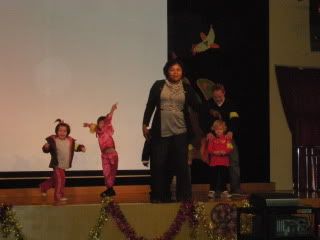 The dancing princess
What really amazed me was that these parents were such a great sport, yes, these were parents dancing on stage with their kids. Sometimes, we just have to learn to let our hair down!
Solving puzzle with the kids...trying to win the most photogenic award. We didn't win that but we won the most creative award for our recycle bag. Sorry forgot to take the picture, cos we were all so excited!
Look out as I begin my blog on our journey back to our homeland for the Chinese New Year holidays!!!!