Another great book from a great man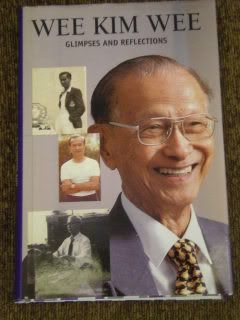 Wee Kim Wee - Glimpses and Reflections.
Dr Wee Kim Wee was the 4th President of Singapore from 1985 to 1993. With his writing skills and his professionalism as a journalist, he could have written many more good books and I would have collected all of them.
In his one and only book, Glimpses and Reflections an autography of a different sort. He wrote it by sharing his anecdotes, simple philosophies and observations of society and the world. It was a book of short stories but these were life stories, real experiences. He was so right in saying that how many people actually have the time and energy to read a full-length autobiography. Breaking up his whole life into little short essays really made this a very interesting read.
In this book, he talked about the very basics of life. Long-lasting marriage. His own - 67 years of being together with his one and only loving wife. Yes, we ought to make marriage last forever, it was meant to be right from the very beginning of mankind. Acceptance and understanding the different cultures in different countries. This, I am still trying very hard to achieve here. To be content with what we have. Sadly, many have missed this point in life. The more they have, the more they desire to have. Borrowing to live. Because we have failed to be content, we have live a life of borrowing. He was spot on when he mentioned that many working Singaporeans have "pawned" their lives to pay off debt. We cannot live simply anymore.
Although he was the President, head of state, he always made time for the common people. He has invited taxi drivers, PUB meter readers, postmen...to the Istana for tea. As a very humble man, he had imposed a press blackout. He didn't want the unnecessary attention. He felt strongly that every person must be treated like a human being so what he did was just the right thing to do. This kind gesture from the President was known only when a taxi driver had to tell his company that he had to take a day off to be the President's guest!
He was the humble President who always have time for the simple things in life and the common people. He so aptly put it...we should live a full life, not a full material life but just a full life.
He has taught us, nevermind if we are rich or of a higher status, we are all the same, we are all humans and therefore demand the same respect and dignity.
I am glad I have this one and only book written by a very kind late President of Singapore.