Blessed to bless
We have learned in our nomadic life that when we are blessed, we are not to hoard our blessings but to spread them to people who are less privileged than us. The church we are attending in SH, has been helping this migrant school. What are migrant schools? They are schools set up by well-meaning individuals to educate migrants' children. Migrants are people from other parts of China who have come to SH to work, hoping to earn more and have a better life when they return to their hometown. They cannot afford to send their kids to the local schools, in any case, the local schools do not accept them either. Very strange system. All are from the same country but not all are the same. We really ought to be thankful for the SG's system - education is compulsory and all citizens have the same chance of going to school.
These migrant schools usually have just the bare necessities and the kids do not have many things. This year, like many other years, the church is gving the kids Christmas goody bags. No, they are not filled with toys but stationeries, beanies, scarves, shoes, books, dictionaries, moisturisers (much needed for bitter cold weather, it is no joke when your lips cracked!), heat pads...all these are necessities, needs not wants.
DH and I felt that it would be good to expose Kai and Ann to do some voluntary work. It would be an eye opener for them to see that Christmas gifts are not just about Playstation, iPad, Wii games, XBox 360...
Last Saturday morning, the whole family together with many other expat families were out packing the Christmas goody bags for the children.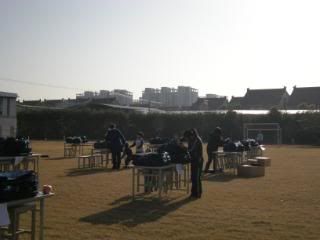 We were early but the staff was even earlier to make sure that all figures were right so that no child will go without a bag.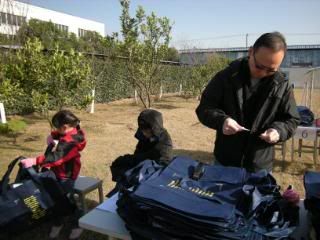 After the figures were all correct, we began working...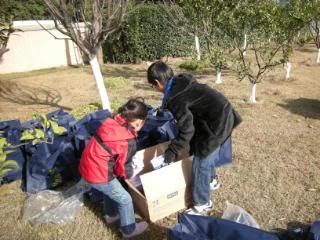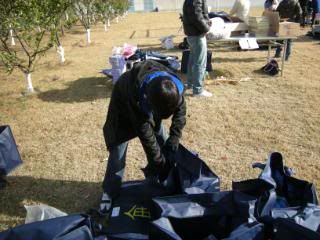 It was heart-warming to see both Kai and Ann working together. This would be a special kind of learning experience for them. They do not have to be famous philanthropists but they must grow up to be man and woman with compassion.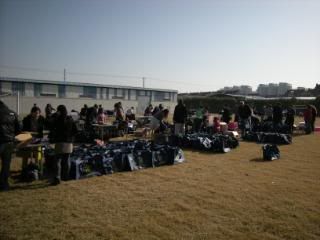 All the volunteers. Over 100 of us. Among them, were CEOs, CFOs, MDs. VPs and what have you. Titles were not important when helping others but it showed that no matter what position they held, they all had a compassion for the less privileged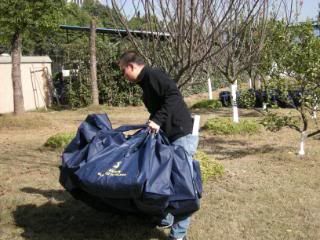 Bags all packed. Dh helping them to load onto the truck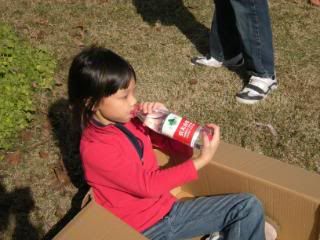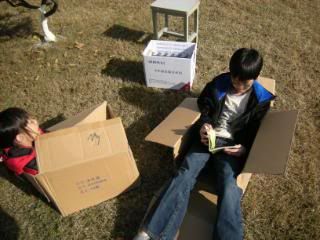 Ahhhh, after a hard day's work, time to have a sip of water and for my little bookworm, he just whipped out his 'Horrible Histories' and off to another world
At the end of our mission, I told the kids that we should go into painting and building schools next time *wink*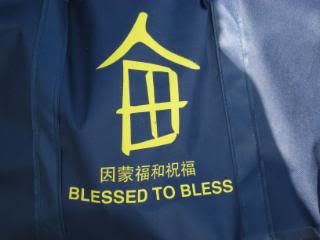 Yes, Blessed to Bless!
God is indeed good. The weather on that day was beautiful. It was cold but sunny. After that, the bitter cold wind desended upon SH. Brrrr....
Look out for my stories as the "rascals" arrive! (SCREAM...)