Baby teeth no more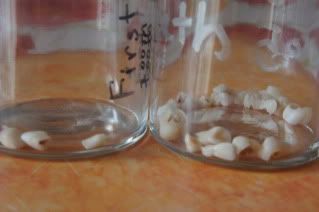 My unusual collections
The bottle on your left contains Ann's baby teeth. So far, she has lost top two and bottom two. Yes, it is that time of her life. Teething period. Adult teeth replacing all her baby teeth. In fact, I must comment that Ann kept her teeth in perfect condition. Since she turned three, her twice a year visit to the dentist has been very faithful. The bottle on your right, of course, contains Kai's baby teeth. As you can see, he has almost replaced all his baby teeth. He will be turning 11 in two months time, it is about time to lose them all. My baby who kept me awake both day and night, will soon become a teenager.
Oh yes, both bottles even have records on which day their first tooth dropped off!
Told you, I am a sentimental freak. I have even framed up their baby booties, I have kept their dried up, wrinkled umbilical cord stump with the date recording when it fell off!
With each tooth falling off comes a fresh new wrinkle!