Mifan Mama
To do a direct translation, it basically means "rice mummies".
Since finding them, I have been a slient supporter to this group. Helping them in whatever way I could. I have yet to travel to the orphanage because I know my emotions will get the better of me. This orphanage was opened by a former businessman. He has a great compassion for these abandon kids. These kids are abandoned mostly because they were born special. Something special about them made their families abandon them. It is indeed sad to know that living beings like them can be discarded like trash. To read more, go to
Mifan Mama website
. The next time, our kids refused to finish their meals, remind them that there are many out there who have yet to find their meal.
Two weeks ago, they had their concert to raise funds for the orphanage. I personally went down to the founder's home to collect our tickets. There, I met one of the special kids. The founder of Mifan Mama has brought her here to have a heart operation. Just seeing one child, I was choked with emotions. I don't think I could bring myself to visit the orphanage yet. I am such a sentimental emotional freak. I know of a couple of such groups existing and sadly, many are founded and run by foreigners. Am I wrong to say that the advancement is only on the hardware?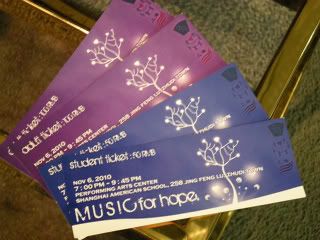 Yes, music for hope!
James 1:27 "Religion that God our Father accepts as pure and faultless is this: to look after orphans and widows in their distress ..."