Friendship
There are all kinds of friends. Casual friends, good friends, old friends, best friends and list goes one. I love Facebook (FB) for the fact that it could help me to find "long-lost" friends. In fact, when it first started, I wasn't very interested in it. I am not a computer person. To me, no big deal about it. But then, being a mum to two kids, sooner or later they will reach the stage where, like all teenagers do, spend time on the computer yakking with friends. It is wise to be in the know.
When I was in the US of A, I started an account on FB and just left it. I didn't go into it, totally forgotten all about it until I started receiving notifications about so and so want to be my friend, so and so made a request...I started getting excited over it because, there were many secondary school friends who have found me.
Beginning of this year, my former Red Cross member and also my ex-SCGS schoolmate found me. It was exciting, like finding treasure in the sunken Titantic. Last month, she was in Shanghai with her family for the World Expo. She called me and we met up for dinner. It was our first meet up after 30 years!. That's a L-O-N-G time.
When I came back to SG, she was back from her SH vacation and we met up one more time. The wonderful thing about this friendship of ours is that there are no barriers. Although, we have not been in touch for so many years, even in FB, we don't chat. Seeing face to face, we could continue from where we last left off. It was such a joy.
When in SG, she invited me and the two kids to her club for lunch. When I heard that we were going to a club, I shrunk. I never love going to clubs, I always felt intimitated. I am never comfortable because people in clubs are so "high and mighty" and have no respect for non-members. That's my perception. This perception came about when I was invited for a work lunch, many moons ago at a club near the old Elizabeth Walk. I was dressed well (afterall, it's work lunch) with proper shoes and all. But I wasn't allowed into the restaurant (read...NOT fine-dinning) because my attire was collarless! I wanted to give the guy at the door a good thrashing and stomped out! If not for my respect for my kind boss, I probably would have made headline then. Then again, he was just doing his job...I should have given the "rulers" a piece of my mind.
If you are a faithful reader of the Straits Times, I am sure you have read of many incidents of clubs not allowing maids in, not welcoming guests etc....
Come, come, why do people pay so much for a club membership to have themselves and their guests suffocated by silly attires. To me, a club is for you to rest and relax. To let your hair down and not be squeezed into a mould of rules...
But this club which my friend belongs to is so comfortable. Ok, good things must share right? It is the Hollandse Club, opened since 1908. Very rich in history. This isn't your "ikan bilis" club. Members are locals, foreigners and expats...with over 40 nationalities! The moment we entered, we were cheerfully greeted by the staff. Listen up, the members there are all in t-shirts, bermudas and flip-fops. Ladies were dressed in sun-dresses and open-toe platform shoes (hello, this is hot, sunny, tropical island of Singapore). Restaurants are opened to all "dressers". I was completely at ease! It was a great Sunday afternoon catching up with each other.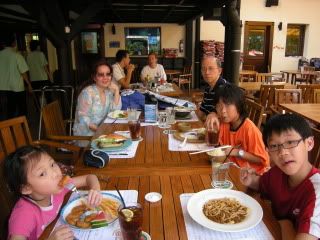 Lunch with the family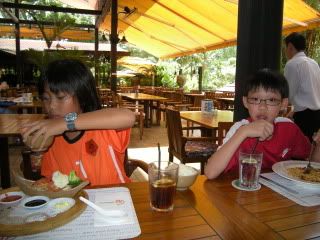 Linus and Kai became good friends almost immediately. Born on the same year and same month.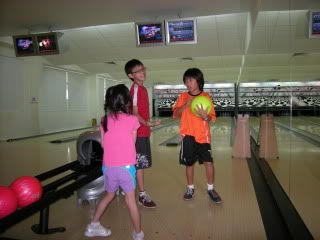 The kids having s fun time at the bowling alley
This is one very special moment of this summer vacation.