Ann is six!
She is six and she is 1/3 into her primary one. She is really growing very fast.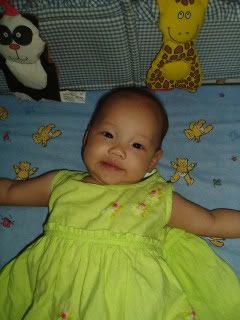 6 years ago...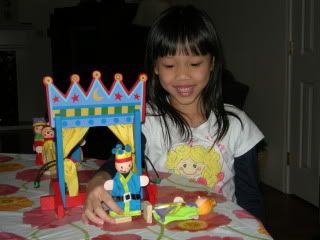 6 years later
We had the most eventful birthday party ever!
Last Saturday, we had a birthday bash for Ann. As we have been "nomads", Ann has never had a real birthday party with her little friends unlike her brother. So for this year, since we were more settled in SH and she has made a lot of friends, dh and I decided to give her a real birthday party, not just adults but also little boys and girls.
I ordered her cupcakes and she selected the design - princess and knight. Everything was confirmed online and I also called to ensure that the order was received. An email came stating the final price, place of delivery and date and time of delivery.
On that day, I waited and waited and waited......no cupcakes! I called the shop and they said they will check and call back. I waited and waited and waited....no call. I called them again.....yes, you guessed it, they missed out on my order!
How can a birthday party with no birthday cake. It was almost time for the party to end. SCREAM...... the lady over the phone apologised profusely! She suggested that I take her ready-made cupcakes and she will have it delivered within one hour. All FREE!
True enough, in less than one hour, the last minute cupcakes arrived and there were cakes for everyone and birthday song sung for Ann. She was very disappointed that her princess and knight did not arrive. But at least, she enjoyed her friends' company and her party.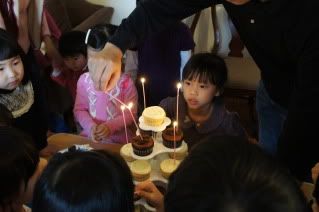 See her disappointed face.
Anyway, in the evening, I called up the shop to thank them for delivering on time and offered to pay 50%, at least to cover their cost. I know to be able to get all the real ingredients here to make such nice cakes, the cost must be high (the cupcakes were the best I have tasted so far,other than my own... ahem). The lady on the phone said that her boss would get in touch with me.
At night, I received an email from the boss and she gave me the 3 dozens of cupcakes free and on top of that, a RMB200 voucher for my next purchase. She asked to be given a second chance. I think there was no need for the voucher as the 3 dozens cupcakes were good enough. I re-ordered the princess and knight again for Ann's actual birthday (24 Nov) and paid full price for them.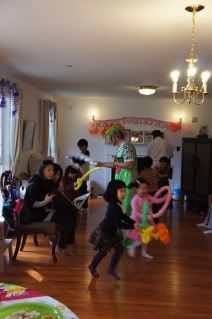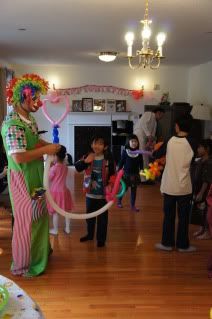 The kids having fun with the clown balloonist
The magician, he was very good, very professional. That's a real bird. I had three birds and a bunny in my house that day!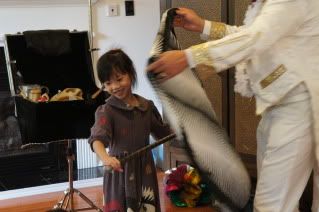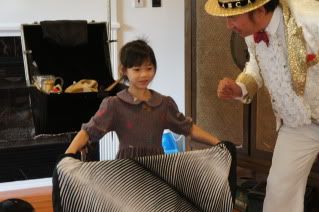 The magician's helper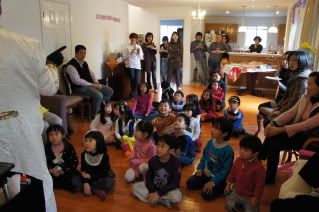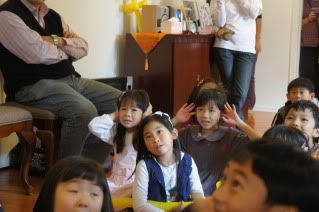 The guests. The magician was able to capture everyone's attention, adults and kids!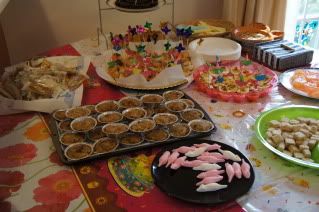 The party spread. Yours truly, single-handedly made them. Now you know why I didn't bake the cupcakes myself.
On the actual day which was yesterday, the princess and knight arrived with some other treats for my little princess! She was most happy!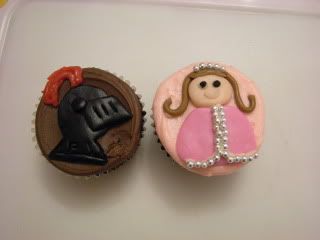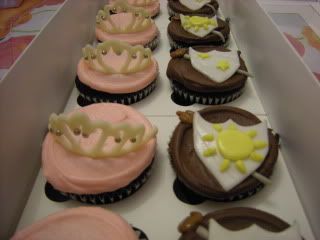 The princess and the knight and the complete set.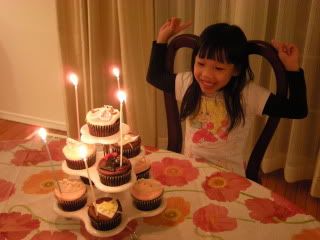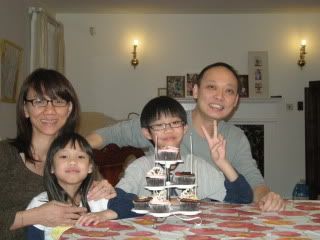 One very happy birthday girl...and very happy papa and koko and an exhausted happy mama...
kaput
.
All's Well that Ends Well
Thanks to popo, jiu kong and uncle Moses for sending all the birthday gifts to little Ann. She is indeed a blessed child!
My next mission - to attend a cake making and decorating class so that I can at least try to control all unforseen situations!
孩子,真的舍不得你长大!