Lunch with their uncle Moses
The kids' favourite uncle Moses brought us out for lunch today.
I tell you, when you are out of town, you are really out of touch. The other day, at the bookshop, I was asking the assistant if they have other outlets and I was told that they have one at 313. Huh? What is 313? Where is 313? When I was at Orchard, imagine, a true-blue Singaporean has to ask a passer-by where is 313. Ok, now I know, it is the former Specialist Centre!
Thankfully, I found the place. When Uncle Moses told us, we will be having lunch there, we thought we knew our way. When we were there, we had to look for this restaurant by the name of Brotzeit. We didn't realise that 313 is that big, there is also the outdoor dinning area. Anyway, our nomadic instinct brought us to the restaurant...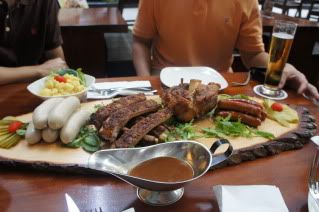 A monstrous meat platter - veal sausages, bbq pork ribs, roasted pork knuckle (with crackling skin) and pork-beef cheese sausages.
All these served with sauerkraut and a unique potato salad. Enough to feed three adults and two kids!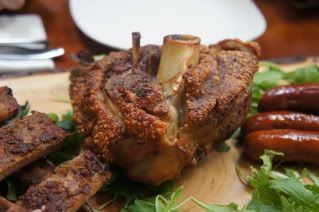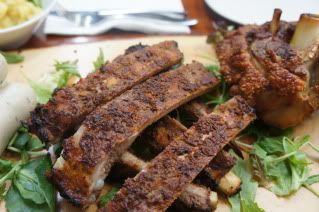 Close-up. Great meat! This meal was most suitable for Kai, the meat-eater
Not too far away, I saw a very interesting cafe...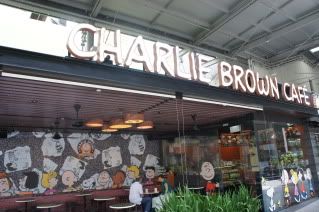 My childhood favourite cartoon characters, Charlie Brown and gang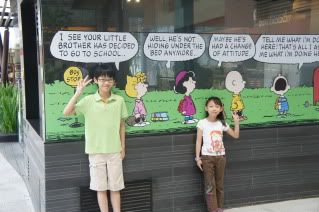 Nice pretty little cafe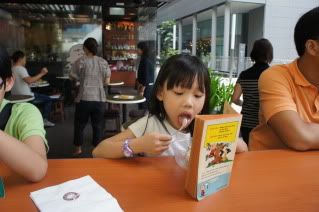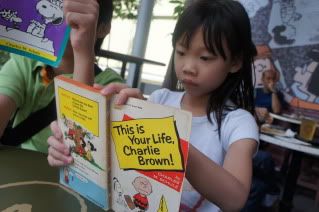 Yes, my two little bookworms. Oh what joy, eating ice-cream and reading at the same time. By the way, if you happen to be in Japan and see their pictures, that is because a Japanese magazine reporter snapped them!