Crazy over you - Tiramisu
After being served with delicious tiramisu at a gathering with some Singapore Shanghai mamas, I have gone crazy over it. I am an adventurous foodie but I do take precaution when it comes to eating some food such as raw eggs . I searched the web for an eggless tiramisu recipe and found the perfect one. Since then, I have been experimenting with various flavours. So far, I have tired the coffee tiramisu, the bacardi tiramisu and the blueberries tiramisu. Verdict : yum-mo!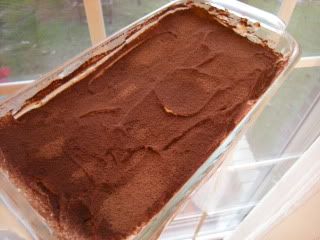 I am so crazy over you
The only setback about making tiramisu in SH is that the ingredients are all imported goods and it is expensive making it. Cannot wait to head home to try it out where imported goods are not sold at illogical prices. When I head home for Chinese New Year, some of you may just have the chance to be my food critic!